Category Archives:
LG
This category contains all new handset's information, new and any other development by LG.
Good news for LG Lucid and LG Spectrum owners, Verizon Wireless confirmed Android 4.0 Ice Cream Sandwich ICS update for LG Lucid, LG Spectrum.  In our post on 2nd October, 2012  we told about the LG Lucid, LG Spectrum  and other LG mobiles including LG Optimus series, and now for LG Lucid and LG spectrum which today got confirmed.
This update is one the most awaited updates, most of the LG costumers got very much disappointed and believed that they will not be getting update for their mobile phones. Though it is too late but it will make Lucid and Spectrum owners happy.
What this new update has got let's have a look: Read the rest of this entry →
It seems like Samsung's bad time with the patent cases has not ended yet instead it has to fight more battles,the battles of law for the pride. Just as it was looking that the Apple and Samsung has managed to solve their matters we are now seeing Lg in aggressive mood to dent Samsung big. Read the rest of this entry →
LG announced their flagship mobile LG Optimus g… Following is the press release:
"LG TO CHANGE MARKET DYNAMICS WITH OPTIMUS G BY FOCUSING ON DIFFERENTIATED USER EXPERIENCE"
LG's New Flagship LTE Device Offers Superior User Experience for "Living Without Boundaries"
SEOUL, Sep. 18, 2012 – Today LG announced the launch of the Optimus G, a new premium flagship device offering a unique User Experience (UX) supported by innovative hardware performance. The powerful hardware included in the Optimus G allows for the possibility of such a creative and engaging UX which will enable Optimus G users to "live without boundaries."
With a powerful quad-core processor, Snapdragon™ S4 Pro, as its base and industry best technologies for enhanced viewing and longer battery life, LG adds the finishing touches on the Optimus G with a beautiful sleek design and innovative UX features. The offerings in the Optimus G will provide users an experience currently unavailable on any other smartphone. Read the rest of this entry →
LG Optimus G debut commercial is released by LG Korea on YouTube just before their event On 19th of September, this Optimus G will be Flagship phone for the company, and LG is doing every thing to Grab interest of the people.
LG Optimus G commercial debut
LG Optimus G is shown in this video but only the front part is clear. No other Specifications are shown in this commercial. Further, people taking pictures under water are shown too so we hope this mobile to be water and dust resistant…
According to many rumors going around about this LG phone,it will be having a Quad-Core Snapdragon S4 processor, this sleek phone will also be having a large 4.7 inch display, along with a 13 Megapixel Camera which might be having Cmos sensor. We expect this phone to be a power house with beautiful designs, and latest jelly bean android 4.1.1 firmware.
LG's event is also right around the corner… Let's wait and watch what is going to come on LG's big day… Hope LG is not going to disappoint….
A new leak of LG Escape, and it is different from previous one, don't know which one is right or which one is wrong. By leaked specification is doesn't seems to be an high end phone as they are not that attractive…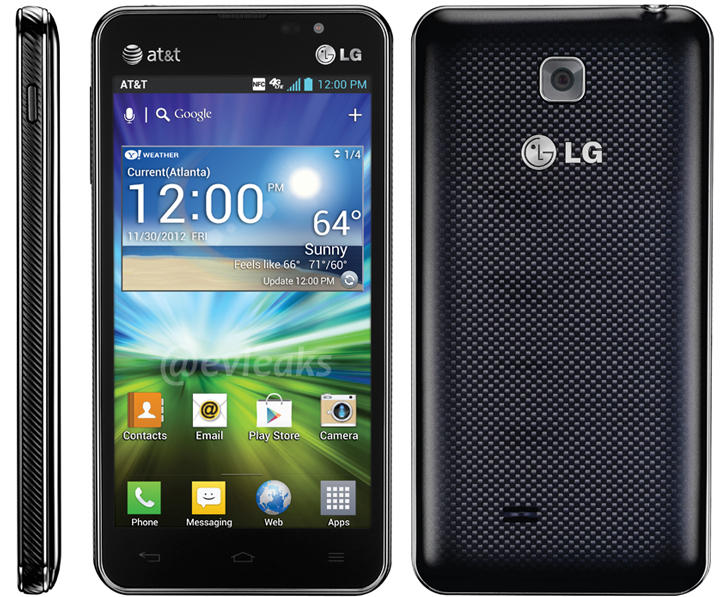 This time a leak from twitter user EV Leaks, we have got the specifications enlisted below:
1.2 GHz dual-coreprocessor
4.3-inch QHD IPS display
Android 4.0, ice cream sandwich
5 MPPrimary camera and 1.3 MP front camera
NFC
4G LTE
a 2150 mAhbattery
1 GB of RAM
In Leaked picture of LG Escape there is no Flash with camera at the back, which is really surprising. and they should release it with Android 4.1.1 jelly bean out of the box to make it a bit attractive. Hopefully LG Escape will not be a high priced handsets, and will be available in markets soon… and we expect better specifications from LG than mentioned in this leak…
source: